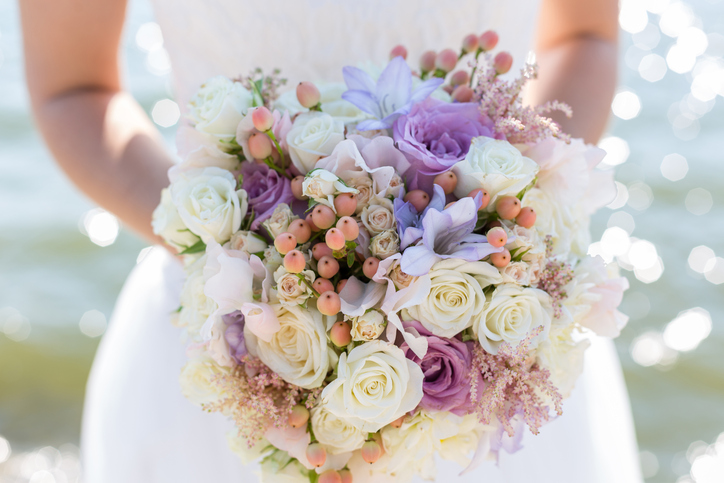 With spring wedding planning in seriously high gear, some brides-to-be are stunned to view the bold, trending bridal fashions unveiled at recent shows.
"Somehow," noted one busy New York wedding planner, "dress designers are devising ways for brides to wear all of the traditional wedding accoutrements – like long sleeves, a train, and the veil – while baring as much skin as possible."
Here's a recap of the most surprising trends embraced by forward-looking bridal fashionistas:
Plunging necklines –
Demure brides are out this season as figure-flattering, if deeply plunging, necklines are incorporated into traditional motifs.
Off-the-shoulder styles
– It figures that skin-baring, off-the-shoulder styles are available in vintage as well as contemporary bridal gowns.
Hot colors
– Shades of pink, followed closely by warm yellows, are increasingly popular as white or off-white alternatives.
Short dresses and bridal boots –
This year's unique crop of bridal designs gives a wide berth to traditional dresses in favor of over-the-knee white wedding boots paired with chic and lacy short wedding dresses.
3-D detailing –
To complement some of the most daring dresses, designers have come up with three dimensional stick-ons, like lace flower cutouts, that adhere to the bride's bare skin above the neckline.
Modern Renaissance
– Featuring sculpted shoulders, a deep square neckline and sheer, leg-exposing veiling below the waist, one Dror design is an updated take on an old Renaissance motif.
Jumpsuit train –
One Mark Zunino design features a modern, off-white silk jumpsuit with a skirt and full train attached.
Crop tops –
Several featured designs pair a chic, short, lacy crop top with a high-waisted, full-length skirt.
Modern lace-up –
Given the popularity of lace-up shoes, it's perhaps no surprise these lace-up dress designs take the trend to the wedding dress, with cut-out designs baring the waistline between quiet satin bodice and skirt.
Boudoir lace – This slipdress-as-daywear design is carried into a wedding gown, among the most relatively demure in popular lingerie shades.
Published with permission from RISMedia.