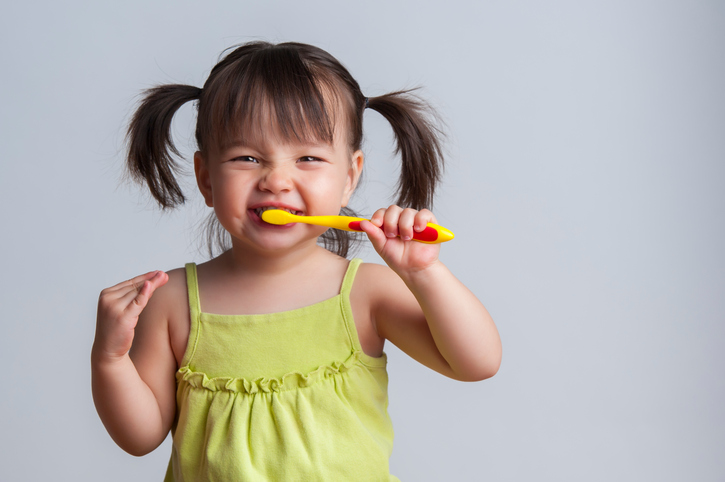 Having a kid is full of surprises, whether it's your first child or your fifth. For those new parents, every twist and turn is an adventure, including your kids first set of teeth. The American Dental Association (ADA) has created an essential list of "tooth-truths" to help parents and caregivers stay in the know about the health of their children's teeth.
When Teeth First Appear.
Your baby is born with 20 teeth below the gums, and they usually start coming through between six months and a year. Most children have their full set of teeth by three years old.
When to Start Brushing with Toothpaste.
Decay can happen as soon as teeth first appear. If you see some pearly whites peeking out when your little one smiles, it's time to pick up a tube of fluoride toothpaste. Find one with the ADA Seal of Acceptance.
How Much Toothpaste to Use.
It doesn't take much to clean your child's teeth. Until you're comfortable that your child can brush on his or her own, continue to brush your child's teeth twice a day with a child-size toothbrush. If your child is three or younger, use a smear of toothpaste (about the size of a grain of rice). For children three or older, a pea-sized amount of fluoride toothpaste will do.
When to Schedule Your Baby's First Dental Visit.
It's another milestone in a year of exciting firsts. Your child's first dental visit should take place after their first tooth appears, but no later than the first birthday. Why so early? As soon as your baby has teeth, they can get cavities.
When to Start Flossing.
It doesn't matter if you floss your child's teeth before or after they brush as long as you clean between any teeth that touch. You can use child-friendly plastic flossing tools to more easily floss your child's teeth until your child learns to do it.
Water Works.
When your child has worked up a thirst, water is the best beverage to offer – especially if it has fluoride! Drinking water with fluoride (also known as "nature's cavity fighter") has been shown to reduce cavities by 25 percent.
Source: The American Dental Association
Published with permission from RISMedia.