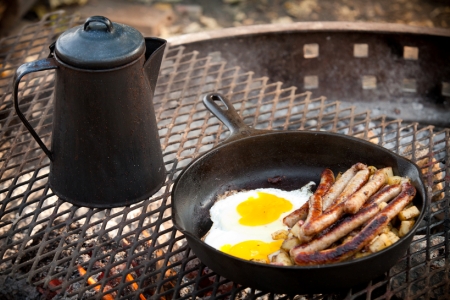 Trend alert!
Barbecuing for breakfast is taking hold in backyards—and in fact, according to the Hearth, Patio and Barbecue Association (HPBA), the trend is only going to grow in popularity.
Why the urge to BBQ breakfast? The HPBA lists a few reasons:
Anything—anything—can be barbecued.
From bagels or oatmeal to cereal or eggs, any breakfast item can be prepared on the grill. (Cereal? It's true! Warm up dry cereal with butter on a grill-safe griddle, and add it to cold milk or yogurt.)
Barbecuing adds a smoky bite.
Barbecuing imparts smoky flavor on beloved breakfast classics. Charcoal, gas and wood pellet barbecues will add a fresh-off-the-grill taste to bacon and sausage, and apple- or cherry-flavored chips can take pancakes to the next level.
Brunch just got better.
Cook brunch items low and slow on the grill early in the morning—they'll be ready by mid-day, and you'll be able to enjoy them that much sooner!
"Breakfast is the most important meal of the day, and the one that is most often overlooked in this hectic world," says Jack Goldman, president and CEO of the HPBA. "Weekends are the perfect time to slow things down, fire up the grill, and enjoy some much needed family time around an open flame. Those who try it will immediately discover that barbecuing your breakfast can be just as enjoyable—and delicious—as your evening meals."
Source: Hearth, Patio & Barbecue Association (HPBA)
Published with permission from RISMedia.